Meet the Echobode Frequency Shifter Delay, a creative FX device capable of producing Chorus, Amplitude Modulation, Ring Modulation, Frequency Shifting, Phasing, Flanging, and straight up Echo Delay effects for any kind of sound you want to throw at it. It's a truly unique Rack Extension that adds something entirely different to the Reason Rack, and fills in another missing piece to the stock Reason puzzle. Here, I've put together an 8-page PDF guide to cover the device, soup to nuts. And still for the same price as a cup of coffee.
Sonic Charge is the company behind this Rack Extension, and if this device is any indication, I'll be giving tryouts to all REs that come from this company. If you haven't tried out the Echobode yet, you should. Just listening to the patches that come with this RE is a treat. You not only get several Effect patches and Effect Combinators, but you get several choice Instruments (and even a Drum Kit) as well. If you already own it, then perhaps this PDF will inspire you to look at Echobode and see a few new ways it can be used.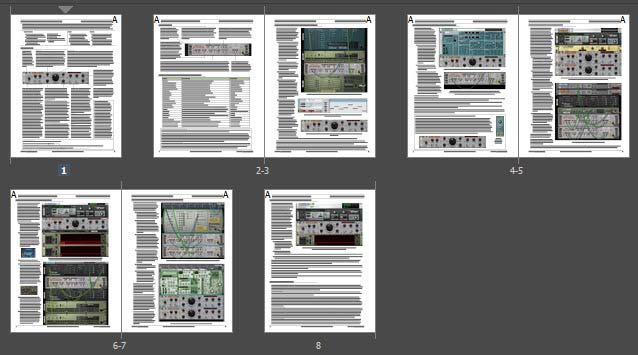 If you are familiar with the book I wrote on the core devices in Reason, then you'll already be familiar with the layout. There's a bunch of samples on the book page which you can download to get an idea of how these PDFs are put together. Here's an outline of what you'll get in the 8-page Echobode PDF guide, specifically:
Complete coverage of the front of the Echobode device, with all controls explained.
Complete coverage of all the Audio & CV routing options found on the back of the Echobode.
Chart outlining the Target modulations available inside the Combinator, with their Min / Max values
Plenty of Tips & Tricks
6 Tutorials:

Simple Harmonized Metallic Bells
Echobode Mono to Stereo Phasing
Multi-Band Spatial Effect
Echobode Chiptune Effect
Using the Sideband Outputs for a Spacey Juno Lead
Bass Drum Frequency Variations
And all of this for $1.99 USD.
Purchases can be made here:
Also don't forget that the book, which covers all core Reason Devices & 8 Rack Extensions is still available over here: http://www.reason101.net/products/reason101-visual-guide-to-the-reason-rack/
Any comments, ideas, suggestions, please feel free to ask below. All my best & happy Reasoning!