This is what fills my heart with warm fuzzies. When those that are part of the Reason and Record community come together to Analyze and tackle some of the more difficult aspects of the software and fill in the gaps that may be left by incomplete specifications. Ed did it previously with his Thor Sine Wave Shaper tutorial, using it to cross-fade between 4 different devices. And now Allen Day ("rogerraa"), Wendy of Wendy Dunham Music fame and Giles Reaves (Selig) from the Selig B3-Leslie refill fame have teamed up to provide the penultimate BV512  Spectrum Analyzer. Selig provided the charts, and Wendy provided the Combinator with a backdrop that cleverly shows the frequency bands.
Download the charts along with the Combinators here:  spectrum-analyzer-project-files. This zip file contains the two charts outlined below, and Wendy's 2 Combinators: 1. A 16-band Spectrum Analyzer and 2. A 32-band Spectrum Analyzer. They both use the BV512 Vocoder/Equilizer in Reason. You can, however, use this in Reason or Reason+Record.
So how do you use this? Well, let's let Wendy explain:
Note: This excerpt is taken from her site. There is also a video you can watch about how it works here: http://www.galxygirl.com/videos/music-making/spectrum-combinators.html. She has graciously allowed me to present it here on my blog (thanks Wendy, you are indeed amazing for sharing this with us 🙂 )
---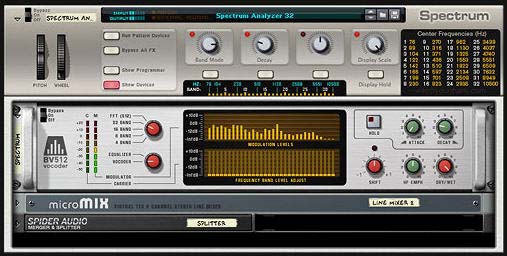 These are convenient Spectrum Analyzer Combinators to see your song's frequency spectra. Each one has an accurate Scale with Band and Hz labels. I prefer the Spectrum Analyzer 32 band version, but in case you don't want that much resolution, I also created a Spectrum Analyzer 16 band version.
Band Select: 4, 8, 16, 32, FFT (512)
Decay: Lower = faster display; higher = overall averaging.
Display Scale: Roll this back to see the peaks.
Display Hold: Take a snapshot in time.
Place before final output. It's a great aid for balancing your mix!
You can leave this on without adversely affecting your output. The main signal passes straight through the combinator via an Audio Spider, so it's monitoring the frequency safely.

These reference charts for all band frequencies are printed on each combinator. The frequencies were measured accurately by Giles Reaves ("selig") and Allen Day ("rogerraa") on the Propellerhead User Forum.
Here's another tip:
If you have an MClass EQ somewhere in your song, temporarily sweep one filter back & forth (with max Q, max Gain), and you should be able to see that peak on the analyzer and identify the frequency.
---
For those interested, Selig did a great job putting together the frequency charts for the 16- and 512 (FFT) -band modes of the Vocoder. Here are the screenshots: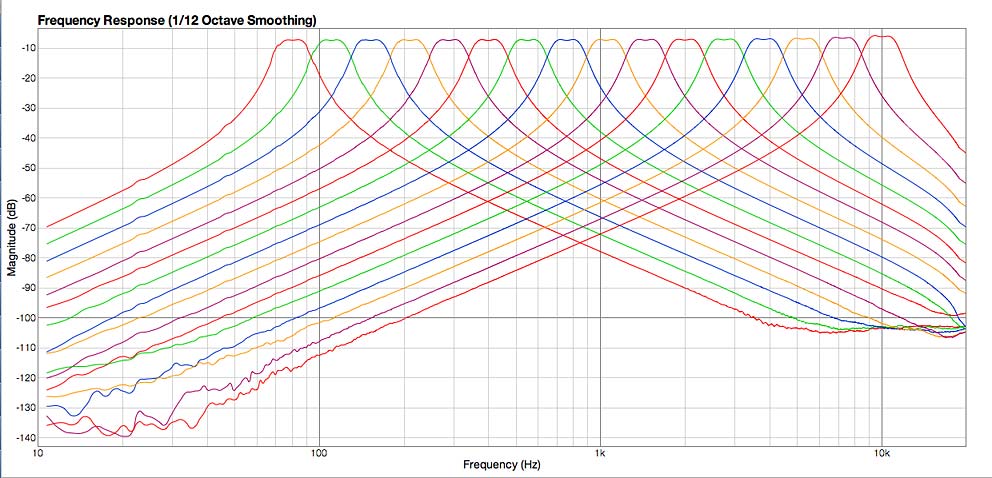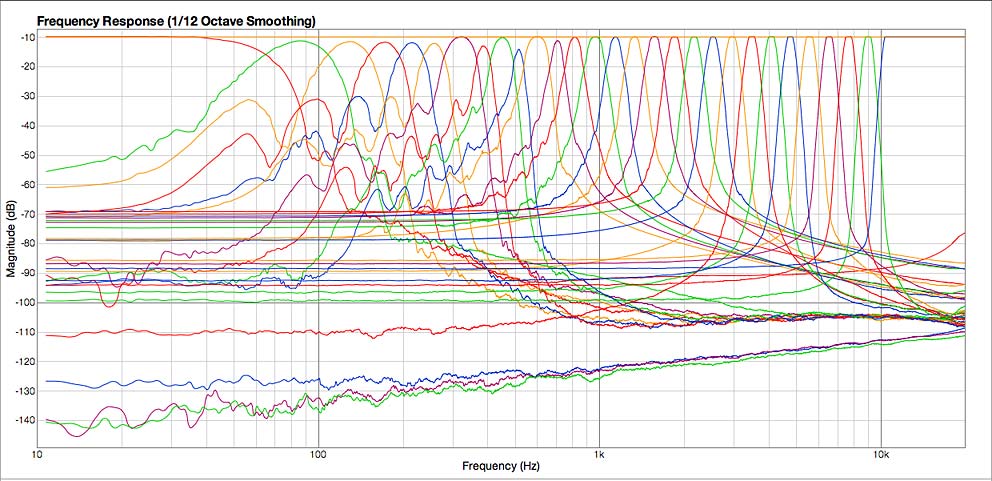 ---
There you have it. Thanks so much to Wendy, Giles, and Allen for these great resources. Your important work does not go unnoticed.